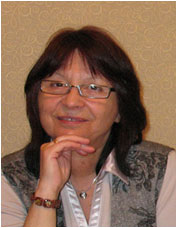 Rositza Yakimova is professor in material science at Linköping University in Sweden in the field of semiconductor physics and technology. She made her PhD on SiC growth in the world famous group at the Electro-technical University, St. Petersburg, Russia and today she has 40 years of experience in growth of compound semiconductor materials. She is an internationally recognized expert in this field and she has acted as visiting professor at several world famous universities. Prof. Yakimova is the author of more than 500 scientific papers in the field of crystal growth.
Since 1993 she has had the leading role in the development of the Fast Sublimation Growth Process at Linköping University. The first SiC sublimation growth reactors in Sweden were designed with her essential contribution in collaboration with Epiquip AB-Sweden. During 1995-1999 she was employed by the company Okmetic, which preceded Norstel.
She has pioneered research on AlN crystal growth and fabrication of large area homogeneous Graphene  on SiC. Prof. Yakimova has been awarded several prestigious grants and prizes.